AEC greatly appreciates all your feedback. Please visit our comment page to read more comments, or visit our survey page to take our survey and leave a comment.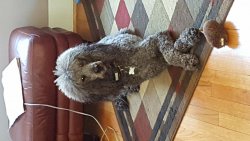 Bluey
Bluey
09/08/20 - AEC Rochester
Bluey and I have suffered throughout the shutdown with his eye situation. It has been VERY frustrating not being able to see the face of the vets who have seen him. (he has been to 7 different vets). FINALLY I land on this place, who diagnosed him to the point where he is actually getting better and his remaining eye may have a little bit more life to it. All the others...with their "covid crap" miss his current problem and just wanted to take his remaining eye out.
I'm grateful I found Rochester Animal Emergency Center. - Bluey's Owner [Avg. Score: 5.0
]