AEC greatly appreciates all your feedback. Please visit our comment page to read more comments, or visit our survey page to take our survey and leave a comment.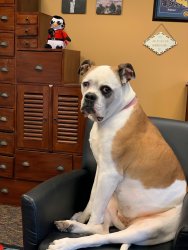 Saddie
Saddie
12/16/19 - AEC Rochester
I want to thank the staff at AEC Rochester for taking such great care of Saddie this past Saturday night. We were extremely worried about what was happening when we notice she was developing Jaundice very suddenly. The entire staff was very friendly and supportive. The tests were done quickly, and the results of those test were explained line by line. We are also very happy that AEC sent the test results to our regular Vet early today. Our vet called us to follow up and make sure we got Saddie in to see them today. They also assured us that Saidde received all the correct testing and care at AEC.
I want to send a special thanks to Valarie. She was so kind and understanding about what we were going though and how worried we were about our pup.
- Saddie's Owner [Avg. Score: 5.0
]