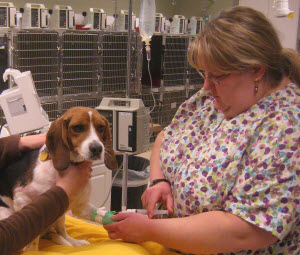 Emergency & Critical Care Experience
AEC doctors and technicians continually work to improve their skills and capabilities. We have emergency and critical care expertise in treating all breeds of dogs and cats, as well as avian and most exotic pet species: We have helped rabbits, ferrets, rats, gerbils, hamsters and other pocket pets; turtles, lizards and other reptiles; and even the occasional kangaroo and wallaby.
If you have any concerns about your pet, you may call us 24 hours / 7 days a week. Although no hospital can provide a diagnosis over the phone, we can offer emergency first aid tips and also identify symptoms or conditions that may indicate a need for immediate evaluation. If you have an emergency trauma situation, call ahead and we will have a team ready to provide immediate response upon your arrival. Our toll free emergency hotline is 1-877-AEC-4-PETs.