Nov 2014 - AEC's "No cost / No Strings Attached" after hours answering service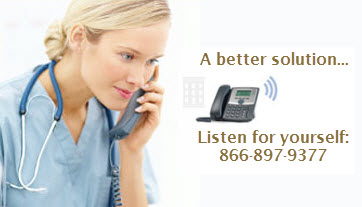 AEC is happy to partner with the leader in virtual office communications in order to provide your clinic with a state of the art answering system at no cost to you.
With this service, customers who call your clinic after hours will have the option to easily and immediately speak to an AEC veterinary professional for a pet emergency - OR - to choose from a variety of other call routing and message options that you decide.
The answering menu your callers hear can be personalized by you, and runs only when you want it to. You can choose to record your own greeting, or we will have your greeting professionally recorded for you. If you would like to occasionally put yourself "on call" after hours, or for certain days or times, we can transfer your callers to you without disclosing your personal number, and then you can decide to take their call or have the system prompt them for a voice message.
You can always listen to voice messages left for you by your customers no matter where you are, and you can optionally receive text alerts and/or emails notifying you when you have received a new voicemail message. AEC will help get the system setup just the way you want it, and our expert, nationwide solution provider will ensure your clinic sounds it's best.
To learn more about AEC's "No cost / No Strings Attached" after hours answering service, call our "demonstration line" at 866-897-9377 to hear a sample greeting and try things out. If you have any questions or would like to set up your clinic with our FREE service, please email Phil@AEC4Pets.com.