Jan 2015 - Dr. Barb Easton (Vet Vision) coming to AEC Novi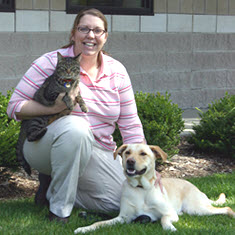 Dr. Barb Easton will begin seeing ophthalmology patients by appointment at AEC's Novi hospital location. Beginning this February appointments will be available on Wednesdays each week from 9 am -12 noon.
AEC partners with Dr. Barb Easton for ophthalmology care and treatment from Veterinary Vision of Rochester (which is co-located at our Rochester hospital location).
Vet Vision offers the highest quality of veterinary ophthalmology services, education, and understanding to their patients, clients and referring veterinarians.
Vet Vision wants to ensure a good quality of life for &quotthe furry member of your family&quot by preserving vision and relieving pets of ocular discomfort.  They are capable of treating dogs, cats and other small animals including rabbits, chinchillas, birds and reptiles.  Horses and other farm animals can be seen by special appointment. For more information, please call 248-402-9844 or visit
www.vet-vision.com
.