Apr 2011 - AEC Rochester Celebrates 5th Anniversary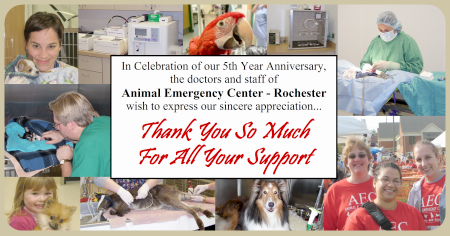 This month our Rochester hospital location celebrates it's 5 year Anniversary.
Thanks to the enthusiastic support of our referring veterinarians and the care and compassion of our doctors and staff, we have helped thousands of pets since we opened at this location in April of 2006.
Beginning this spring / early summer, the AEC Rochester location will become a full time 24 hour / 7 day facility. This will allow our critical care patients to remain here for treatment around the clock, and also allow us to provide emergency service in this area during daytime hours.
AEC will continue to refer non-emergency cases to local veterinary day practices. We are changing our hours to provide better care, not to compete with our referring veterinarians.