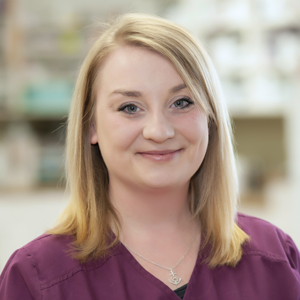 Jordin
Jordin joined AEC as a receptionist in 2018 and is in the process of persuing her associates degree in Applied Science from the Veterinary Technician Program at Macomb Community College.
Jordin has done a great deal of volunteer work with different animal rescue groups and continues to invest much of her time assisting foster families with behavioral coaching, introducing foster animals to their new home and helping provide proper care and training. She herself has fostered upwards of 15-20 pets.
Jordin has a great passion for animals and a great eye for detail that she uses to help observe and connect with pets and their owners. "I am very passionate about animals, and truly want to make a difference with helping them. Experiencing different rescue situations has opened my eyes to a lot of urgent and emergency situations, and has led me down the path of emergency veterinary care. This is where I want to be!"
When Jordin isn't busy helping customers at AEC or volunteering at a rescue she is busy taking care of her 4 rescued Siberian Huskies: Laika (Siberian Husky/Aussie), Nala (Siberian Husky), Niko (Siberian Husky/Malamute) and Buddy (a Marvelous lab/shep/husky Mutt!). Niko and Nala are previous foster failures - they are crazy, vocal and "the absolute best". The girls are younger and recreationally mush with the dog sled, dryland cart and bikes. All of them love boat rides and long walks on the beach... and Nala loves to ride on the Jet Ski :)