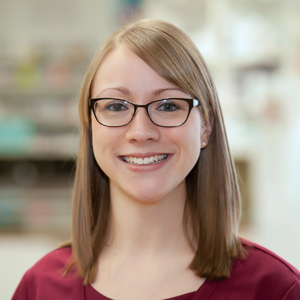 Emily
Emily joined AEC in 2018 after working over 6 years at a veterinary day practice. She also previously held an internship position at the Howell Nature Center in the wildlife infirmary. Emily has a degree in Wildlife Biology from Michigan State University.
Emily's positive attitude and willingness to learn and help out has made her a great addition to AEC. She loves helping people help those they care most about (their pets!).
"I enjoy being able to communicate and build relationships with clients. Sometimes a trip to the ER can be a little scary, but a smiling face and a friendly attitude goes a long way to help make things a little less unsettling. I love listening to our client's pet stories and sharing the fun times our furry friends give to us!"
Emily has one cat named Maisey and enjoys camping, baking and spending time with her family and friends.