Oct 2010 - AEC Treats Rattlesnake Bite Patients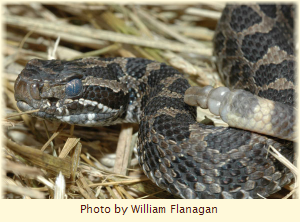 On two separate occasions this past summer and fall, Animal Emergency Center helped save dogs that were bitten by rattlesnakes. Treatment in both instances required the use of Antivenin.
The first attack occurred in April 2010, and according to the Detroit Zoo (which stocks and distributes expired Antivenin for treatment) there have been over 8 reported Massasauga rattle snake bites this year, and that number seems to be on the rise.
Following treatment of the first case, Dr. Robertson of AEC sent a
notification letter
to veterinarians in our community explaining the details of the case and how we handled treatment. AEC now stocks Antivenin in our pharmacy for the fastest response possible.
The second, more publicized attack, was featured on WXYZ TV. Dr. Nicole Grube of AEC appeared in their live report on a Waterford Township man and his 7 year old beagle that were both bitten.
In each case AEC treated, the pets involved were saved and recovered nicely.