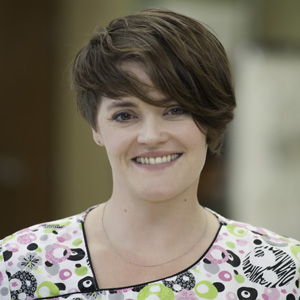 Carri
Carri has been a technician at AEC since 2011. She initially began her veterinary career at the vet tech program at Bel-Rea Institute in Colorado, eventually working as a receptionist and technician in both ER and day practice. After time off to start a family, she came to Michigan where prior to joining AEC, she worked and trained at Plaza Veterinary Hospital for over 11 years.
Carri brings a love for animals and pure interest in the medical field. She enjoys client education and in particular, "knowing that I can make a difference for the families and pets that come to AEC". Carri is currently working towards her Ultrasound Advanced Imaging Certification in a very rigorous program taught through Sound Eklin.
Carri has been married for 17 years; she has a teenage son, Ethan, 2 Chihuahua mixes and 2 cats. She loves arts and crafts, reading, gardening and making sock monkeys. Most recently, she has been training and now skates in the Ann Arbor Derby Dimes roller derby league - watch out for "Snarky Malarky"!