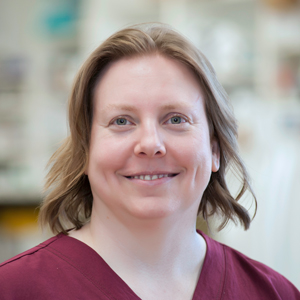 Tammy
Tammy has a Bachelor of Science in Zoology from Michigan State University in 2001 and an Associate of Applied Science for Veterinary Technician from Penn Foster College in 2014. Tammy joined AEC in 2017 and is a Licensed Veterinary Technician.
During technician school, Tammy worked in every position possible from kennel assistant to fill-in veterinary assistant to receptionist. Before joining AEC, she worked for just over 2 years in general practice. She also has extensive personal experience from owning rats, hamsters, rabbits, Guinea pigs, and a degu.
"Aside from dogs, small furry critters are my next favorite pets. I have always loved animals. As a youngster, I thought about becoming a veterinarian until I learned they're the ones who sometimes put pets to sleep. Instead, I decided to learn about zoology and become a zookeeper. Unfortunately, that never came to fruition. It wasn't until we had to deal with our own pet's health crisis (lymphoma) that I thought about pursuing a career as a veterinary technician."
Tammy loves the variety that working in emergency brings - she gets to use more of her technician knowledge and skills than when she was in general practice. She also loves taking Continuing Education courses and expanding her knowledge base.
Tammy brings a great deal of compassion and understanding to AEC clients and patients. "I have been in their position before, so I know some of what they're going through. I like to treat their pets as if they were my own, including talking to them in a sweet voice." Tammy also has a special interest in veterinary oncology after taking care of her first whippet Harvey through his 4 year battle with lymphoma.
Tammy is happily married to her supportive husband Jeremy. Their children are four-legged and furry! They include Nemo an Italian Greyhound, Corky a Chihuahua/Pug mix, Ritz a Dachshund/Chihuahua mix, Reggie a Whippet, Penny a mini-lop rabbit, and Olaf a dwarf mix rabbit. They also have a 90 gallon freshwater aquarium.